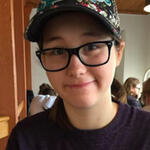 Gabriella Presnal
---
I am an 19-year-old Finnish American, queer artist currently living in Finland. I work in various mediums including but not limited to watercolors and acrylic painting, relief plasticine pieces, collages, mixed media, sculptures, ceramics, drawing and illustration, digital, and oil pastels. Though, I primarily work in painting.
Much of my work focuses on human rights, activism and the global political climate as these are issues I have been very interested in since middle school.
I have multiple social media platforms where I share my art and what inspires me. My following across all platforms is over half a million (500,000+).
You can contact me via email: [email protected], or by any of my social media platforms. Please contact my email for business inquiries including any commissioned work.
---
exhibitions
I've been a part of seven exhibitions insofar, the first was Genuine Expression (2019), the second was my high school diploma exhibition (2020), the rest you can see below!
iWeek 2021 Unity Virtual Exhibition
TAMK Fine Art (April - ) 2021 Check Out
Virtual Exhibition
ARS108 Exhibition
July 2nd - August 29th 2021
Hirvatalo Pispala Center of Contemporary Art
September 18th - October 10th 2021
Harmony Art Exhibition at Skanssi Shopping Center in Turku, Finland
10.10.2020 - 1.11.2020
For this exhibition I prepared for three months (July, August, September). For this exhibtition I exhibited three bee hive installation sculptures, one small city exhibition, six smaller environment sculptures, one polymer clay piece, two watercolor paintings, and eight faces. So 21 pieces in total.
Stay Creative & Stay Alive
Virtual Exhibition
7.8.2020 - 30.9.2020
I submitted four works to an online exhibition earlier this summer and it is now exhibiting online. The pieces were inspired by the COVID-19 pandemic and current intersecting issues such as the Black Lives Matter movement as well as indigenous rights as not only are these communities under attack from COVID-19 but they are also facing human right violations from their government or colonial institutions that are still in place.
Kulttuuri - Toimitus Virtual Exhibition 29.6.2020
You can see and read about the works below!
I also take part in a small fundraising project started by young artists. It was founded very recently to raise money for multiple organizations related to the Black lives matter movement in the United States.
Genuine Expression
Art Exhibition at Utua Brand Shop, Aleksanterinkatu
18.6.2019 - 2.7.2019
I have had five exhibitions insofar. The second was my high school exhibition. The first was in June 2019 at Utua Brand Shop (Aleksanterinkatu 36) for Pride month called Genuine Expression where I exhibited 17 pieces. I also made a more personal piece inspired by the Utua Brand shop using pieces of sampler leather to create a collage called "Strength in Community". Later, I was interviewed for a Demi article in the October 2019 edition.
Inspirations
This exhibition was inspired by artists like Wednesday Holmes, Ana Serrano, Bete and Gezo Marques, Daniel Agdag, and especially Nina Lindgren's Floating City. My intentions were to represent a place where marginalized groups are liberated from oppression and have equity, dignity, and respect in harmony with our environment. One of the pieces, the arch city, is named Rainbow Nation which was inspired by how South Africa is referred to as the Rainbow nation to describe post-apartheid South Africa after 1994. So, to me this project represents a world/society "post-violence" as oppression is violent in any form.
My intentions are not to appropriate or compare every system of oppression to the apartheid but rather to try and reimagine a society without said systems and what would that look like. What this piece at its core is talking about is peace. Johan Galtung's coined the terms negative and positive peace, negative peace is an absence of violence, such as a ceasefire, positive peace meaning conflict resolution, restoration of relationships, and creating harmony between peoples. Peace in itself is not just the absence of conflict, it's the absence of violence in all forms and the constructive methods of unfolding conflicts between different groups of people. So, of course, no country, even Finland, is truly at peace, because in many instances we lack positive peace. We lack harmony. At its simplest terms, the piece is essentially trying to envision world peace.

One thing I questioned in the process of making this project is if color makes the idea of this rainbow city naive and childish? Does this emphasize that it's just a fantasy and peace can never be achieved? That marginalized peoples will never be safe and have the same rights? On the other hand, color emphasizes empowerment, reclamation, liberation, and acceptance. With the colorful and fantastical style I wanted to reclaim a narrative that this idea of wanting equal rights is somehow juvenile. Or that this idealization of this anti-oppression society is somehow impossible and therefore naive. The colorful, and youthful style of the pieces represents the youth taking action and trying to mold their future. It emphasizes the connections between human rights, the domination and exploitation of the planet, and the importance of democracy. It's most essential message is that even a child can see the large systemic issues at hand, hence the youthful style. This "utopia" may not be 100% possible, I surely don't imagine society living in bee hives, but perhaps with the idea of solidarity with one another, we can create a version of it.

Symbolism
This project is also very interesting because there are very little people in the piece. If the whole point is to emphasize solidarity between people, where are these people? The houses are leaning on one another to build this bridge and these cities, for me it symbolizes how human rights are interdependent with one another. I think the homes represent trying to materialize these ideas of supporting one another because the conversation can't really stop at a conversation. It has to go beyond words, and even in the context of this exhibition it has to go beyond art. For this project I also want to include more urban settings, as graffiti is an art form that represents rebellion against conformity and institutions to some extent. I.e. messages about rebellion, reclamation, and perhaps a divide against the people and the institutions that are supposed to protect them but rather protect property and profits. I think vocabulary we associate with the sculptures is also important because what is the importance of a nation over a city? A nation represents a people but this nation is represented by a people-less city. So in that way it feels like an oxymoron. But I think a home is also what a lot of these ideas embody. We want to be safe, to have water, food, dignity & respect, to love, and to be loved, and we want that for everyone in our community on the basis of their humanity.
I also wanted to incorporate this idea of harmony between the environment and society. I think the bee hives and the rainbow are very important because I think the idea at the core is that humanity is inherently good. That anti-oppressive movements are human nature, justice is human nature, solidarity is human nature.
A large part of the inspirations behind this piece are the communities I have been in. For instance, the beehives were created from old notebooks from high school classes. So this exhibition is very much about what we are teaching today's children? What kind of society are they growing up in? Does our present represent the future that they want? I think these pieces are very symbolic in that sense because they're almost entirely made up of recycled materials and they have a very collage style to many of the buildings and surfaces, so it literally symbolizes tearing down or recycling the old and building something that works in harmony with our environment and the people in our societies. The city tries to emphasize cultures from around the world. The rainbow emphasizes pride but also the blurring of our social constructions and how we understand ourselves in our society.
If you have questions or would like to commission a piece from me, contact [email protected] or via my instagram @gabriellapresnal
Vigil, 2018 acrylics piece by Gabriella Presnal.
46 x 35.5 cm
New Delhi Pride, 2019, acrylic painting by Gabriella Presnal. 46 x 35.5 cm
Angel, 2020, acrylic painting by Gabriella Presnal.
21 x 29.7cm A4 size
Purple Portrait, 2020, acrylic on cardboard by Gabriella Presnal. A2 size.
Adam Eli, 2020, acrylic painting by Gabriella Presnal, 21 x 29.7cm A4 size.
Susanna and the Bigots, 2019
Acrylic and Oil on Canvas by Gabriella Presnal.
82 x 60 cm
Kids in America, 2019, acrylic & marker/mixed media piece by Gabriella Presnal, 24 x 32 cm.